The owner and President of Cleveland based Mont Surfaces by Granite, Inc., Dinesh Bafna carries over three decades of experience in the industry of fine surface materials. Having started his business in a small warehouse in 1989, Mont business has reached unimaginable levels only because of the dedication and hard work of Dinesh Bafna. He has expanded his business to eight regions across the Midwest and is now a renowned name in the industry.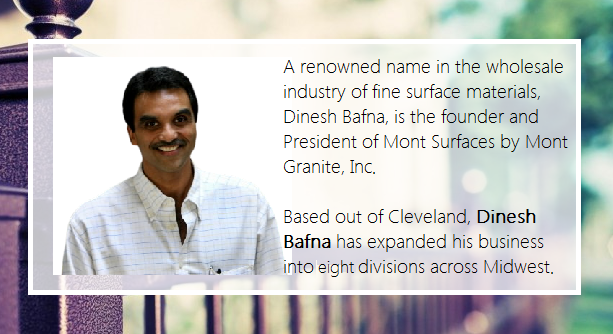 The profiles of Dinesh Bafna mention his expertise and business skills that he has gained and honed over time. He keeps himself updated with whatever is happening in the industry and even attends trainings to learn what's new in the technology world. He also imparts those skills to his staff and is known to be an excellent mentor who focusses on the company's revenue and on the overall growth of his team.
Some of the details of Dinesh Bafna are: Born August 24, 1964, Bafna graduated from Bowling Green State University and later went on to marry to Sangita Bafna. He fathered two sons, named Kunaal and Kurren.
It is not just his business sense that has earned him respect, what has built a great reputation of Dinesh Bafna in the industry is his commitment to pay back to the community. He is associated with the non-profit organizations, including American Red Cross, North Coast Community Homes, Breakthrough Charter Schools, Youth Opportunities Unlimited and The Playhouse Square Foundation.
As far as his commitment to work is concerned, he brings efficiency and productivity in the operations of a business. He is also a great communicator and carries the ability to nurture value-based relationships with his clients and customers. Being a man of several qualities, he knows how to leverage his relations for the benefit of his business. Bafna is also a people's manager and doesn't believe in micromanaging his staff. He believes in leading them by example.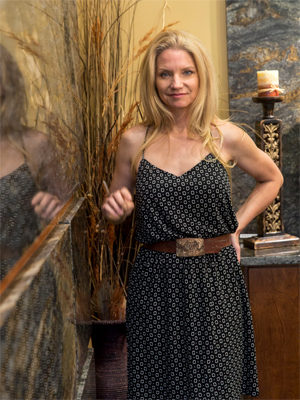 A recent achievement for Mont Surfaces is Dinesh Bafna's partnership with Susie Frazier – a collaboration of contemporary nature-based trends with reflective surface designs perfecting home improvement by recognizing individuality.