Dinesh Bafna is the President and owner of Mont Surfaces.  He started his business in a small warehouse in 1989 and has expanded it to eight divisions across the Midwest. This has made him one of the largest wholesale suppliers of fine surface materials. Bafna is known in the industry for his professionalism.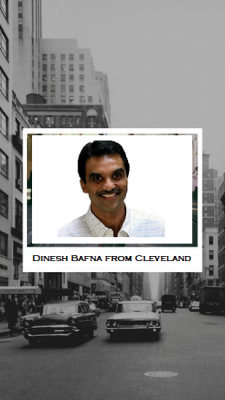 He constantly works towards developing fine business prospects as he holds excellent communication skills and relationship-building capabilities. Having built connections with business leaders, investors and advisors, he has enhanced business opportunities for his organization. He believes in giving back to the community from which he earns, which is why he is working with various non-profit organizations including American Red Cross, North Coast Community Homes, Breakthrough Charter Schools, Youth Opportunities Unlimited and The Playhouse Square Foundation.
Bafna is an ethical businessman who is not afraid to walk the extra mile to satisfy his clients and customers. He is known to accomplish assigned projects under any circumstance. He is constantly learning and imparts his knowledge to his team. He keeps himself updated with the latest technological advancements and attends regular trainings or workshops to grasp new skills. His art of motivating his staff and becoming a leader to them is appreciated.  He employs ethics in all his actions and avoids fraud and fraudulent activity.
Moreover, he is a leader who realizes the challenges of the workforce and mentors them effectively in order to assure their wholesome growth and development. He motivates his employees which leads to successful completion of the company's objectives. Apart from meeting business goals, Bafna's leadership style helps in overall growth of his employees. This is the quality which sets him apart from others in the industry. Working with a professional like him is an opportunity to expand and grow. Bafna believes in leaving a lasting impression on his customers who he deems of great importance. This is the reason one would rarely hear any complaints about Dinesh Bafna.
Additional details about the background of Dinesh Bafna include his marriage to Sangita Bafna and his two sons, Kunaal and Kurren. He was born on August 24, 1964 and graduated from Bowling Green State University.
Dinesh Bafna does everything whole-heartedly and devotes himself fully! He has built his skills over many years. He is known to develop qualitative strategies which lead to business success. In the industry, one hears reviews praising his fine understanding of business tactics and his quench for knowledge. He is a true professional who has honed his skills for over three decades.